---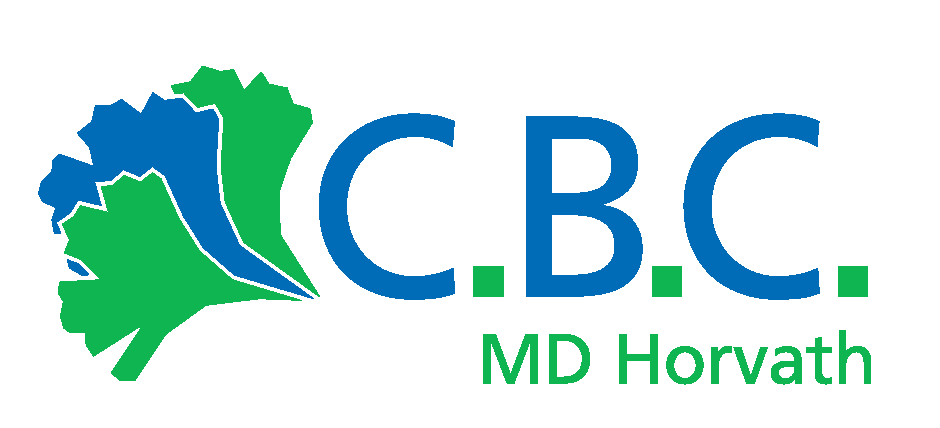 CBC Vznik Ltd. / Concept B CZ
Early Diagnosis
Veveří - Nerudova Street 321/9
602 00 Brno
Czech Republic EU

---
Ladies and gentlemen !

The out patient facility Early Diagnosis, specialized part of the Concept B CZ Ltd.,
is settled in the Health Centre Zahradníkova Street in the city of Brno.
Telephone (00420) 541 552 369; Fax (00420) 541 552 429.
Hours reserved to phone calls and information: Thursday and Friday 5 – 6 p.m..
E-mail: info@mdhorvath.cz
---
TRANSPORTATION GUIDE

A: Urban service Health Centre Zahradníkova is accessible by trolley-operation line N. 25 and N. 26 from the Mendel Square in the direction Novolíšeňská Street, trolley-stop Konečného Square. Further ride here tramway-line (regionally called "sholeeno") with the number 12 and 13 from the Main Railway Station in the direction Technology Park – get off on the tram-stop Nerudova Street. From the promenade ride to the Health Centre Zahradníkova tramway N. 3 and 11 – however entrain on the stop Česká Street in the direction Komín, Bystrc and get off on stop Rybkova Street – the Zahradnikova Street Health Centre respectively is the next one on the right the park beside.

B: Arriving to Brno drive the car in the direction into centre, thereafter at first occasion onto inner green ring up to Konečného Square, here turn to Veveří Street in the direction from the centre. You are on-site one hundred meters after :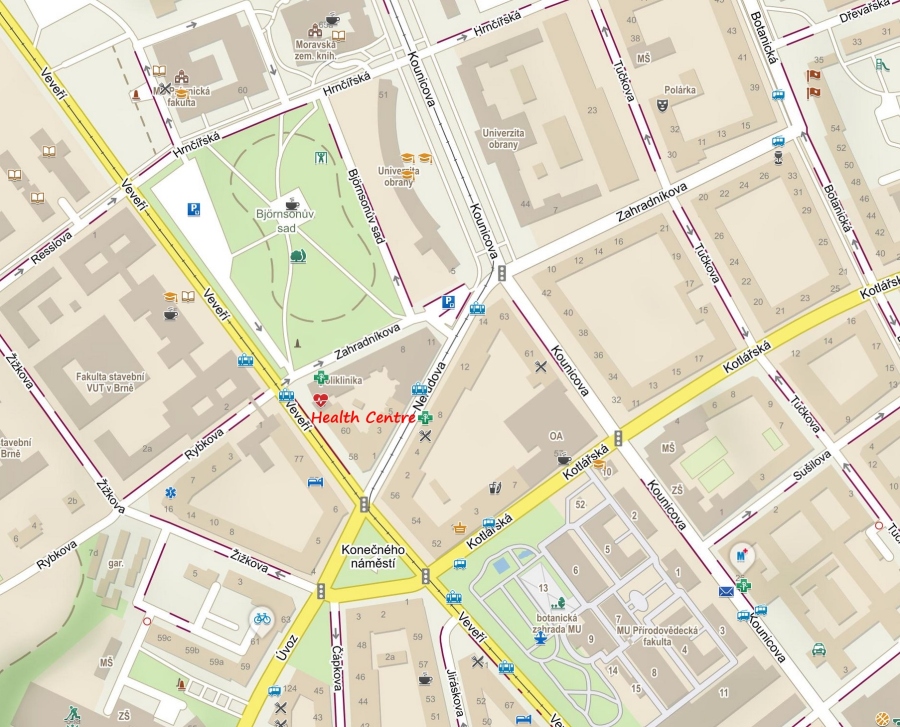 C: Parking Zahradníkova Street is first road deviated to right of the Veveří Street behind Konečného Square. To park a car here nearby The Health Centre, by city-dwellers called On the Outlook, could be described as a good joke ... but with untried guy or puss ...,moreover on the first look only, at the first visitation, by a match against time, or if you would like to park directly in front of the main entrance (Zahradníkova Street 2) or barrierless entrance (Zahradníkova 8). The arrival with about 30 minutes in advance solves the difficulties completely. Drive slowly and quietly about parking area (round about a park) in the case of space shortage and you will find a space probably in the peak hours too. Take it easy in the case of difficulties, drive along Veveří Street outwards the town (district of Žabiny direction) and about 150 - 200 metres you will park in a greater parking area in the vicinity of the Faculty of Law on the right side of Veveří Street or in the car park in the Platinium Cyrrus Building on the left. Walk quietly back... and you are standing at the Health Centre building from the park site.

LOCALISATION OF THE AMBULANCE AND BUILDING ENTRANCE INFORMATION
You need to find in the considerable complex building STAIRS / ELEVATOR D – it is most simply starting from the Hall A on the first floor / barrierless entrance through Zahradníkova Street 8; or from the main corridor on the second floor / in the case of entry by Entrance Hall B connecting the main gate – through Zahradníkova Street 2. Early Diagnosis Ambulance is localized in the 7-th floor of the Section D.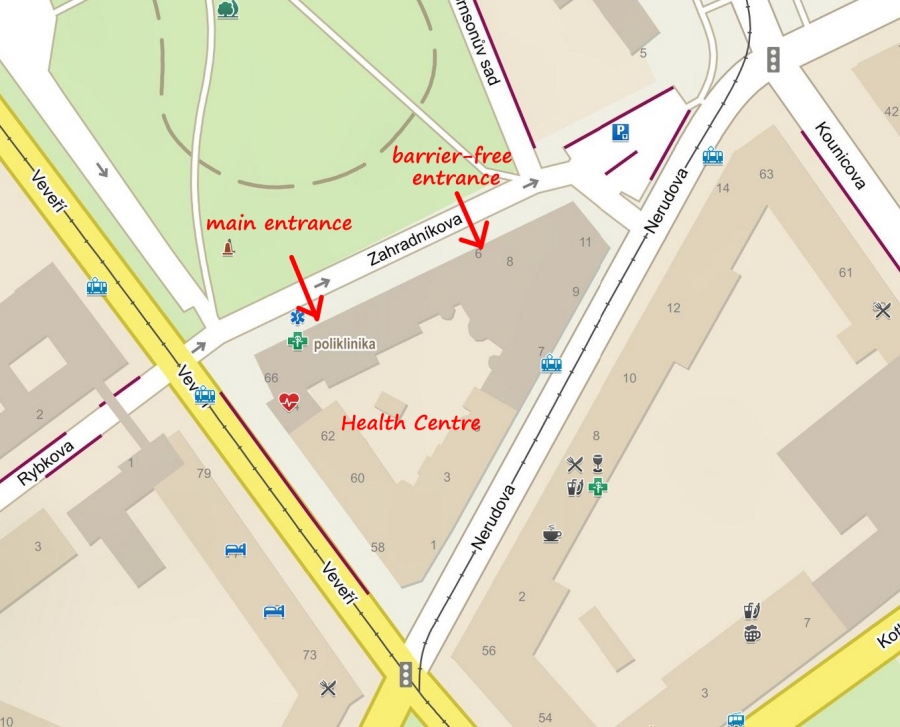 ---
See you On the Outlook!
Ted and Mary Horvath
---